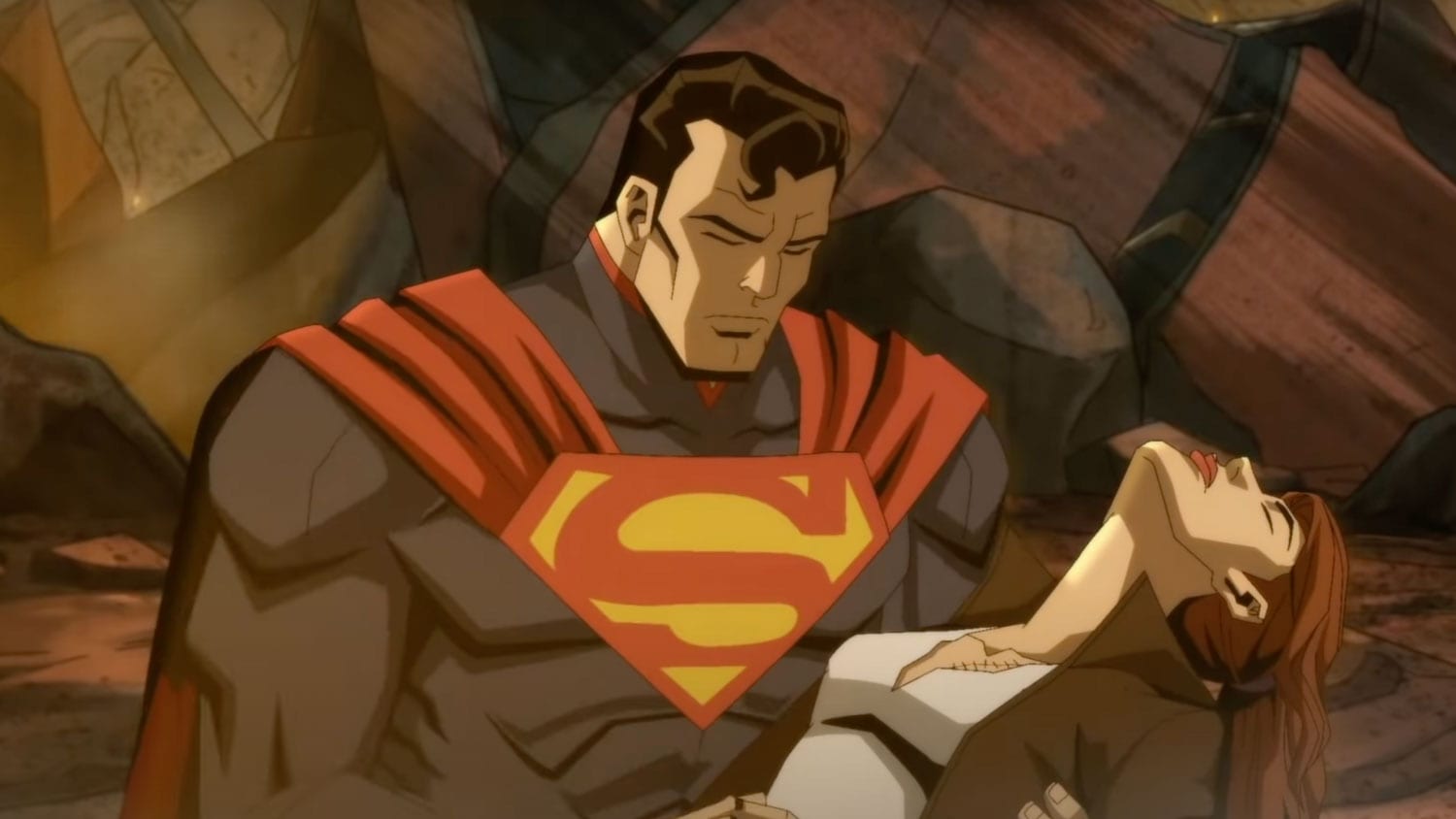 Imagine what would happen if Superman went bad. Not a mustache-twirling villain, but a frighteningly powerful fascist who demands loyalty and obedience from…. well, everyone. Sort of like a Twitter warrior with godlike powers.
Hence we get "Injustice," an animated movie loosely based on the hit video game and the long-running comic-book series that served as its prequel. Sadly, it's a bare-bones, rather shapeless kind of film, and it's kind of shallow both in plot and theme – the moral issues raised by the source material are boiled down to "taking away people's freedoms and rights is bad." The voice acting is lackluster and the need to fulfill a three-act structure leads to a very rushed and somewhat anticlimactic ending.
The Joker decides to give Superman the "one bad day" treatment – he kidnaps the pregnant Lois, attaches the trigger of a nuclear bomb to her heart, and tricks Clark into killing her. The bomb goes off, destroying all of Metropolis. Enraged and grief-stricken, Superman murders the Joker in front of Batman. Then, with the support of Wonder Woman, decides that he is going to bring peace and order to the world…. whether the world likes it or not.
Only a few heroes, antiheroes and Harley Quinn dare to oppose Superman's new regime, with Batman as their leader. But as their resources and numbers dwindle – including a loss that forever fractures Batman's family – Superman makes a Faustian alliance with a villain who promises to help him achieve his dream of peace, and descends further into murder and tyranny as he kills those who offend him. The only hope that this Earth has is for Batman to free Mr. Terrific, and find someone who can stop Superman.
It was always going to be a challenge to reduce a long-running, years-spanning comic series and a full-length video game into a movie that isn't even ninety minutes long. That's a lot of character development, subplots, battles and important events that need to be trimmed away. So needless to say, the story is very bare-bones and loses a lot of its narrative oomph – as well as the expansive cast of characters one would expect of the Justice League. I'm still not entirely sure why Harley Quinn is involved except as comic relief.
The story also seems to not have much depth – the main message of "police states and fascism are bad" is a good one, but it isn't presented with much complexity or nuance. The movie also suffers from having to neatly wrap up everything in a bow after a third-act battle… which it utterly fails at. Lots of plot threads are left hanging when it slams into the credits, only seconds after the whole superpowered-tyrant-controlling-the-world issue is resolved in a very, very anticlimactic way. And whenever a hero is killed – which happens frequently – there's barely time to register it. Most of the many deaths just don't matter, and some characters just walk right out to never be seen again (such as Aquaman and Shazam).
It also inherits some original sins from the source materials, and despite many changes, it makes no attempt to explain them. For instance, Wonder Woman is strangely hostile to Batman and all-too-eager to turn Superman into a super-tyrant, apparently being too stupid to see how all this could escalate. Why is she so different from the usual Wonder Woman we know and love? No idea. She just is.
The animation is…. okay. Not the best I've seen, but not offensively bad. The voice acting is resolutely mediocre, through – most of the actors range from okay-but-not-very-good (Anson Mount, Justice Hartley, Gillian Jacobs, a strangely stiff Janet Varney) to this-is-just-really-bad (Faran Tahir, Kevin Pollak's Joker). Derek Phillips is admittedly quite good as Nightwing, and Oliver Hudson is pretty fun as Plastic Man.
The one good aspect of "Injustice" is that it reminded me that I've been meaning to watch "Superman Vs. The Elite," an animated movie that delves into the morals of superheroes and what happens when they throw aside laws. Consider that a recommendation, and give it a watch instead of this halfhearted, fatally-flawed adaptation.